On December 16th, Ring of Honor presents its marquee iPay-Per-View event Final Battle from the Hammerstein Ballroom, Manhattan, New York, over the coming weeks I will not only be promoting Ring of Honor Final Battle 2012, but interviewing several current and past talents ahead of the big show.
He is the innovator of the Go 2 Sleep, a multiple time GHC Junior Heavyweight and Tag Team Champion, he possesses some of the hardest kicks known to man and will leave you with the scars to prove it, he is none other than Pro Wrestling NOAH's, KENTA!
In 2005 KENTA landed in the United States for the first time, defending his GHC Jr. Heavyweight Championship against Low Ki in one of the hardest kicking matches you may ever witness.
With his crisp chops, vicious kicks and lightning fast reflexes, KENTA was right at home and it was those attributes that lead to his domination of ROH in 2006, culminating in one of the most highly acclaimed ROH World Championship matches ever against Bryan Danielson.
By the time KENTA wrestled his last match for Ring of Honor in 2009, almost everybody breathing behind-the-scenes had some scar, welt or bruise to remember him by, leaving a literal mark on Ring of Honor which will never be forgotten.
I recently spoke with KENTA about his earliest memories of professional wrestling, his thoughts on CM Punk, his time in Ring of Honor and whether a return somewhere down the line could happen, plus much, much more!
- – – – – – – – – -
Q) What are your earliest memories of pro-wrestling in Japan?
Watching NJPW and AJPW, seeing guys like Rikidozan, Mitsuharu Misawa, Hiroshi Hase, Keiji Mutoh (The Great Muta) and my mentor and friend Kenta Kobashi battle.

Q) Were there any stand-out performers who inspired you to pursue it as a profession?
There were many. Watching Hiroshi Hase and Keiji and their wars was what really got me interested, as did Kenta Kobashi in All Japan. There was nothing else I wanted to do.

Q) Your mentor is of course the legendary Kenta Kobashi, can I ask was there any specific incident that made you alter your name to solely KENTA?
Nothing specific. People were confusing us. They'd see our names advertised and think NOAH made an error. I felt like our names were too similar and knew I'd have to change it. I settled on KENTA and haven't looked back.

Q) A well-known North American talent you've had multiple battles with is current WWE Tag Team Champion Daniel Bryan (aka Bryan Danielson), what's it like working with someone such as Bryan?
Hes one of the hardest working guys I've ever met in wrestling. We'd battle for sixty minutes until our skin was pealing off but still be smiling because we knew we'd treated the fans to something special. We wouldn't take it easy on the other both of us have taken our share of kicks to the head.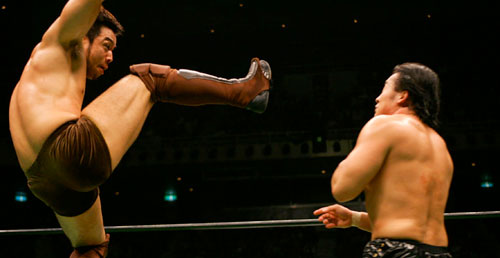 Q) Recently you were victorious in the Pro Wrestling NOAH Global League Tournament, which included some of the top talent in Japan. With that in mind, where does KENTA go from here?
I'm just going to go where life takes me.

Q) Your style of wrestling is pretty diverse, you've an array of different offensive moves in your arsenal and some can be seen weekly in North America, especially from CM Punk, who uses your patented Go 2 Sleep, the running high knee, multiple slaps/roundhouse kick sequence and others. What is your take on CM Punk?
I watched CM Punk wrestle two years ago and saw him using a number of my moves in the same pattern as I would. I'm happy he is influened by me because hes a great wrestler but I felt like he could have asked. Its all in the past now and I've no hard feelings, CM Punk is one of the best wrestlers in the world but thats only because hes imitating the best haha

Q) On December 16th Ring of Honor presents Final Battle, you yourself have competed for Ring of Honor during two separate runs, one coming between 2005 – 06 and the other between 2007 – 09. What was it like competing in Ring of Honor at the time?
I loved my time in Ring of Honor and thats why I kept going back. I remember stepping into the ring during my first match and all the fans were cheering me like I'd been there forever. ROH fans to me are the most passionate you can find their the real wrestling fans who love wrestling. Being in ROH is unlike anything I've ever experienced.

Q) During your time with Ring of Honor you competed against a lot of the promotions top talent. Bryan Danielson, Samoa Joe, Nigel McGuinness, Austin Aries, Davey Richards and Tyler Black to name just a few. Is there any specific talent you enjoyed working with in ROH?
I enjoy facing anybody! I had some of my favorite matches with Davey Richards who is somebody I respect a lot. Hes a very unique wrestler and can adapt to almost any style. I've watched his matches and thought he could be the best in the world.

Q) Do you take interest in the Ring of Honor product of today? Final Battle 2005 is where you made your ROH debut, seven years later and the promotion is still going strong.
I try to watch when I can but being in Japan its not easy. ROH still going today isn't a surprise to me because the company is so full of great people. There aren't many guys I worked with there anymore but they've replaced them with guys who are just as talented and that's what ROH is good at.

Q) What do you make of the card Ring of Honor is promoting as of now, any matches in-particular you're excited to see?
I'm a big fan of Davey Richards and Eddie Edwards. I know that Davey has trained well with Kyle O'Reilly and think that match could steal the show. I think Kevin Steen is a great talent and am excited to see what he brings on the night. He can move very fast for someone of his size.

Q) A question I know a lot of ROH fans will be interested to get an answer for, is there a chance KENTA will return to the United States or more specifically Ring of Honor in the future?
We will have to wait and see. Its all scheduled by the GPWA (Global Professional Wrestling Alliance) so if NOAH and ROH can come to an agreement I'd love to return to America and wrestle some of their new guys.

Q) Just to wrap things up, I'll say a name and you respond as you would. Davey Richards?
One of the best wrestlers you'll ever see.
Q) DGUSA's BxB Hulk?
Great high-flyer, someone whose name you need to remember.
Q) Bryan Danielson?
The hardest working guy I've ever met.
Q) Takeshai Morishima?
GHC Heavyweight Champion.
Q) Prince Devitt?
The best gaijin in Japan right now. Very talented and determined guy reminds me a lot of Bryan Danielson.
Q) And finally, KENTA?
Someone who'd be happy to send you to sleep! :)
For all the latest information on ROH Final Battle 2012, checkout ROHWrestling.com or stick with us here on Wrestle Enigma in the coming weeks as the event approaches.
Make sure to keep up with all my latest postings from here on WrestleEnigma.com, WrestlingINC.com and KayfabeKickout.com by following my official Twitter account @DragonSagaWE