Steve Corino promised that honor would die, and SCUM would grow.
Kevin Steen accepted the challenge of a determined Jay Lethal, a man who for so long has been looking to grasp to the brass ring and become a World Champion, but every time he comes close it is taken away from him and he is sent to the back of the line. For Lethal this was his golden opportunity to stop SCUM, stop Steen and become ROH World Champion.
The American Wolves, Davey Richards and Eddie Edwards were tested with formidable opponents in the form of New Japan Pro Wrestling's Rocky Romero and Alex Koslov, Forever Hooligans. Romero returned to Ring of Honor after a three year absence, and faith directed him in the path of former No Remorse Corps partner Davey Richards.
Mark and Jay Briscoe continued their reign as ROH World Tag Team Champions, having defeated a slew of opponents and now being faced with the challenge of Kyle O'Reilly and Bobby Fish, reDRagon. Fish and O'Reilly entered as underdogs having only formed a couple short months ago, but having come to know each other very well since then maybe luck would be on their side.
And for the ROH World TV Championship, Matt Taven challenged holder Adam Cole, after Taven defeated six other competitors to win the Top Prospect Tournament. With Truth Martini in his corner Taven entered this match as the ultimate underdog on the card, but wouldn't be unsettled, because when Martini backs you up chances are you have something.
This event celebrated Ring of Honor's 11th Anniversary, and it did more than deliver!
ACH Rises Above The Mayhem
With Matt Taven removed from the fold, six men were left from the Top Prospect Tournament, so Ring of Honor management made a match allowing each talent a second opportunity to showcase what they could bring to the table. Featuring Silas Young, Mike Sydal, Adam Page, QT Marshall, TaDarius Thomas and ACH, this match was the perfect way to kick off the show.
I despise using this word, but this match was for all exstensive purposes a spot-fest – not a bad thing however, as for an opener it got the adrenaline flowing for the remainder of the event. Featuring several dives to the outside, and a Superplex from Young to Evans on top of the other participants, they eventually brought it back inside the ring and each man nearly captured the victory.
In the end it would be the man who shun the brightest that left smiling, ACH pinned Silas Young following a Cradle DDT to leave the 11th Anniversary Show having made a very loud statement. ACH is a new addition to the roster having signed a contract last week, a welcomed addition as this guy brings speed, charisma and an easily likeable personality.
Winner: ACH
SCUM Shows No Honor
Cedric Alexander and Caprice Coleman entered this bout with the intent to defend Ring of Honor, the promotion which has given them the opportunity to shine and gradually solidify themselves as a top tag team within the promotion, however Steve Corino and Jimmy Jacobs were out for blood and wouldn't be nursing a loss on the night they promised to watch honor die.
This was a great beginning to the more advertised card. Corino and Jacobs were made to look like the evil doers they are while Caprice and Cedric shined for the future ROH World Tag Team Champions they are, Cedric Alexander in-particular impressing me, especially with a Springboard Clothesline he connected with in the match which he got some great hang time on.
Tag team wrestling near its finest was exhibited during this match, both teams used their respective partners to deabilitate their opponents, several tag team maneuvers were performed throughout this match which goes to show that tag team wrestling is indeed alive and well. Steve Corino and Jimmy Jacobs picked up the win after a Spike Piledriver which Cedric Alexander sold like a star.
Corino and Jacobs looked strong coming out of this match, Steve mouthing to the camera as he made an exit, "tonight we grow" reiterating that promise and freshening it up in the minds of the fans. Cedric was alright after the Spike Piledriver, appearing later on in the night.
Winner: SCUM (Steve Corino & Jimmy Jacobs)
Haas Gets Stomped, Whitmer Is Stopped
In the build-up to tonight's event this match was one I was anticipating. Charlie Haas and BJ Whitmer were embroiled in a feud which saw both men on opposing teams, Haas alongside Shelton Benjamin as Wrestling's Greatest Tag Team and BJ Whitmer alongside Rhett Titus. At Final Battle, Haas almost ended Whitmer's career with an Exploder Suplex through a table, and BJ was out to get his own back.
This match epitomized a fun brawl. Charlie Haas gained a lot of heat during his entrance, waiting for Whitmer in the aisle as the match began on the outside with fists being traded before they entered the ring. Whitmer took a ton of punishment, being rammed into the guard rail, put through two tables, one via Exploder Suplex from the top rope, shades of Final Battle.
Haas had issues with a ladder which led to a hilarious moment involving Charlie screaming obscenities at a hunk of metal, but it was a slap to BJ Whitmer which would send "Buzzsaw" over the edge, Whitmer performing an Exploder Suplex of his own onto Haas through a ladder balanced on two chairs. Whitmer continued the assault, raining down knees on top of Charlie's head.
Referee was forced to stop the match for Haas' safety, something "The Outlaw" won't appreciate, but in the grand scheme of things this allows the two to continue their rivalry, one which has already led to a couple good promos, a fun brawl at a car dealership and now their match earlier tonight.
Winner: BJ Whitmer via referee stoppage
Hooligans Get Hunted Down By The Wolves
The match I anticipated the most. American Wolves are a phenomenal tag team, some of the duel maneuvers they can perform are magical and this match was an exhibition of this. Romero and Richards were always going to be the main focus, being former ROH and IWGP Tag Team Champions together, but the light hearted tone of the match really made it enjoyable to watch.
Alex Koslov took only a few seconds to irritate the American audience, reciting the Russian national anthem in a horrible rendition, Hooligans then refusing the Code of Honor only made matters worse as the match began with Richards versus Romero. Davey set the tone of the match after connecting with a clothesline, performing a pelvic thrust, showing his critics he can be a fun guy.
American Wolves hit perfect in-stereo suicide dives, a fantastic build-up to this saw them do everything together to a perfect timing. Romero continued the fun atmosphere by attempting to shake Davey's hand, only to be rejected. In an attempt to convince Davey of his good intentions Romero shook the referee's hand before hugging him. Davey eventually shook his hand, but Rocky connected with a kick to the gut.
This was a highly competitve match despite its fun nature, Romero and Koslov played up very well to the American audience, shouting to them before performing simple moves. In the end however this wouldn't be the homecoming they imagined, as The American Wolves picked up the victory following a Powerbomb/Top Rope Backcracker combo, a phenomenal move to close the match.
In the aftermath all four men stood in the ring, agreeing to the Code of Honor. When Davey shook Rocky's hand the fans roared with approval as both men hugged center of the ring. Rocky took to the commentary to shout, "ROH, the best, always!" as the fans responded with a loud and rather accurate chant of "Please comeback!"
Winner: American Wolves
The Messiah Falls To The Unbreakable
Roderick Strong and Michael Elgin came into this event knowing they had it all to do to put the other away. The stipulation was 2 Out of 3 Falls, the way to win is defeat your opponent not only once but twice in a singular match, having not defeated Roddy at Final Battle the pressure was on Michael Elgin, but from the outset of the match you wouldn't think it.
Elgin moved quickly to pick up the first fall, using a rapid combination of a backhanded slap which nearly knocked Roderick's fillings out, a Powerbomb into the turnbuckle and his finishing maneuver the Elgin Bomb, Michael had an advantage a mere couple minutes into the bout, leaving Roderick with it all to do, but "The Messiah of the Backbreaker" responded in-time.
After two near falls Roderick brought Elgin to the top rope, connecting with a backbreaker to the top turnbuckle and following it up with his signature Suplex Backbreaker to put "Unbreakable" away, equally the bout at one a piece. Roderick wasn't done however, as instead of going to his corner for twenty seconds he went on the attack, referee Todd Sinclair being forced to restrain him in-order for Elgin to recover.
Michael Elgin eventually put Roderick Strong away following an Elgin Bomb, which Roderick admirably kicked out from, only to be turned into a Crossface which only took a matter of seconds to force Strong into realizing he could live to fight another day. Michael Elgin left the ring knowing he'd finally done it, he'd finally beaten Roderick Strong.
Winner: Michael Elgin
Taven Upsets Cole At The Hands Of Truth
Truth Martini has managed competitors to the ROH World Championship, hes managed Roderick Strong to the ROH World TV Championship, despite his eccentric persona Truth has a knowledge of how to form a winning champion and under his guidance, Matt Taven entered this event hoping that the Book of Truth would be his guide to becoming the new ROH World TV Champion.
For the most part this match wasn't spectacular, it featured solid wrestling between the two and showed Matt Taven for what he is – an exceptionally good wrestler for an exceptionally young man, despite the fact Adam Cole is in fact younger than him. With Matt Hardy on commentary and constantly talking throughout the match (much to my disdain) the outcome of this match was completely unexpected.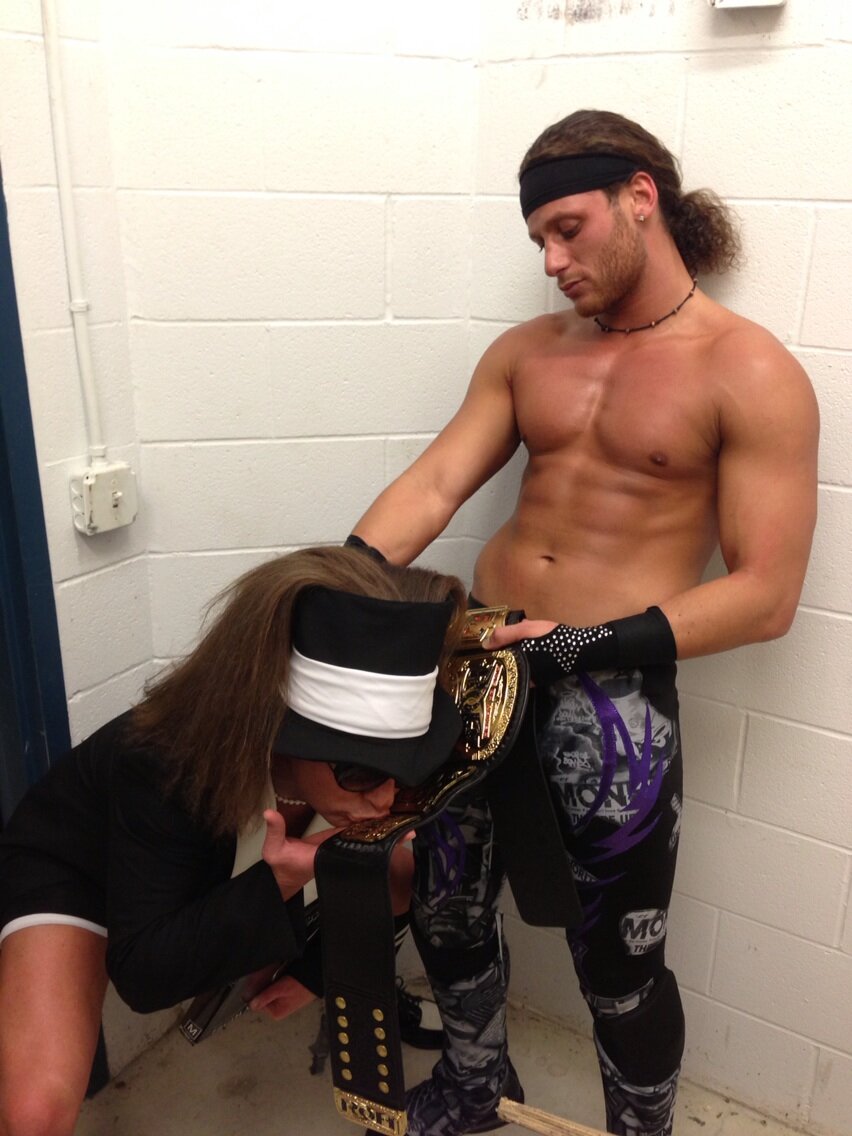 After receiving a clatter from the Book of Truth across the back, Adam Cole groggily wobbled forward and into the grasp of Matt Taven who in one swift, rapid movement picked Cole up and planted him with a Modified DDT, and with the referees hand coming down for the three everyone expected Cole to kick-out, but the fact is, he didn't.
Matt Taven caused a major upset by defeating Adam Cole and becoming the new ROH World TV Champion. Whether this is an indication Cole is soon to leave Ring of Honor, or they simply want him to move away and concentrateon the top prize won't be found out, but for now Adam Cole's reign as ROH World TV Champion has ended, at the hands of the young Matt Taven.
Winner: Matt Taven
Chasing The Dragon To The Gold
Off the back of Taven shocking victory over Adam Cole, nobody gave Fish and O'Reilly half a chance in hell of leaving the 11th Anniversary Show as champions, their odds weren't the healthiest entering so why would they be any better now? The Briscoes entered this match confident of a win but O'Reilly and Fish weren't to be doubted, weren't to be doubted at all.
Whereas the initial tag team match was great and the second was near perfection, this one may be just that, complete and utter perfection. Both teams showed off their class not only as individuals but as duos, Fish and O'Reilly looked great in this match and every time they came close to winning it more fans in the Frontier Fieldhouse rose from their seats.
This match involved some fantastic maneuvers, one saw The Briscoes hit Kyle O'Reilly with their signature Doomsday Device on the outside, almost twisting O'Reilly inside out. The other saw Bobby Fish fling Mark Briscoe from the apron to the floor with a Belly-to-Belly Suplex to the oncoming Briscoe brother. This left the young team with a chance, and boy did they take it.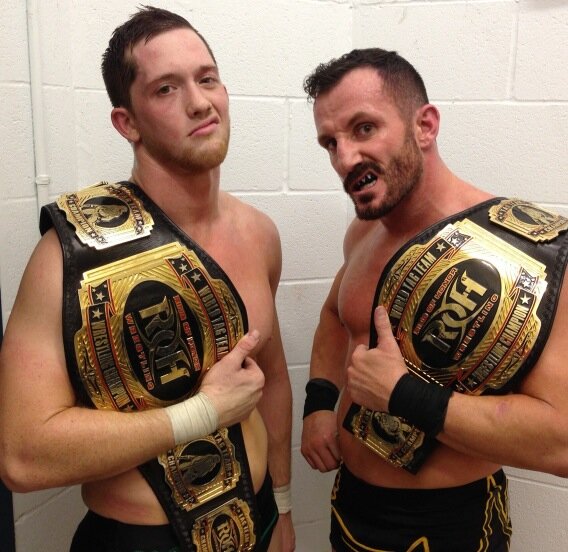 Hoisting Jay Briscoe into the air, Kyle O'Reilly with an assisted kick from Bobby Fish drove his head into the mat in a maneuver they call Chasing the Dragon. Everyone expected a kick out, interference, a last millisecond break-up, but instead the unthinkable occurred as the referee's hand hit the mat for three and reDRagon captured the ROH World Tag Team Championships.
I can't recall in my nine years as a devoted Ring of Honor fan the last time two titles changed hands in back-to-back matches in such a manner, to such young, unexpected talents. This is a great thing to see as it creates new teams and instantly gives them strength, further building the division in the process as reDRagon left the 11th Anniversary Show, their mission completed.
Winner: reDRagon (Bobby Fish & Kyle O'Reilly)
Steens Wins, SCUM Evolves, Honor Dies
It'd been built since October, Kevin Steen and Jay Lethal would finally meet one-on-one on iPay-Per-View for the ROH World Championship and "Mr. Wrestling" would showcase how he truly does believe that he is now defending something worth the effort. Jay Lethal entered this match with a dream in his mind and he would do anything to achieve it.
This match was a fitting end to a great event. Both men hit one another with every move in their arsenal, Steen with the Steenalize, F-Cinq through a table on the outside, the Package Piledriver, Jay Lethal with the Diving Elbow Drop, Lethal Injection, Lethal Combination and he even managed to lock in the Kohji Clutch but not even that would be enough to finish off "Wrestling's Worst Nightmare."
Lethal battled against the odds and the numbers, Steve Corino and Jimmy Jacobs interfering mid-match but failing to assist Steen in his victory, instead Nigel McGuinness would chase Corino to the back as Lethal took care of Jacobs with a kick, Jimmy stuck at ringside and attempted to interfere on multiple ocassions, Steen going as far as to tell him, "get the fuck out of here" as Lethal rolled him up, almost costing Kevin the match.
In the end, Kevin Steen would be the victor following a most fitting move. From the top turnbuckle, Kevin hoisted Lethal up and concluded their match with a Brainbustah onto the top turnbuckle, the signature finishing maneuver of former partner El Generico. As the fans chanted "Olé, Olé, Olé" Rhino would interfere and Gore Lethal, leading to the evolution of SCUM.
Winner: Kevin Steen
In the aftermath of the main event, as Kevin Steen sat in the corner watching everything unfold, Steve Corino's promises came through as in the space of five minutes SCUM transitioned from a trio to an army. The first new recruit was unveiled as Jimmy Rave, coming through the crowd to attack Caprice Coleman & Cedric Alexander, the former Embassy member a long time heel in Ring of Honor.
The second member was revealed as none other than Rhett Titus. Charging the ring alongside BJ Whitmer, Titus would kick Whitmer in the face and tear his "Honor Lives" t-shirt from his body, revealing a "SCUM" t-shirt, the former ROH World Tag Team Champion aligning himself with Corino and co as he proceeded to beat down his former friend BJ Whitmer.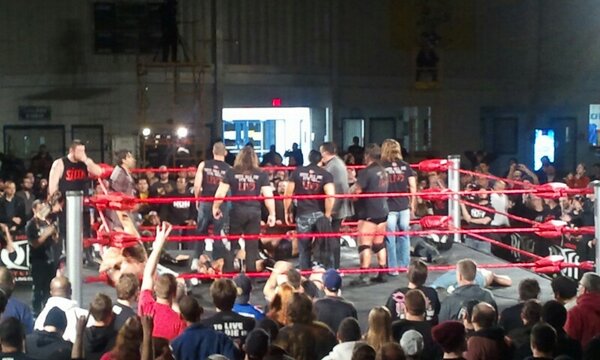 The fight continued as more roster members poured from the back, leading to another new revelation, as Cliff Compton joined the fray throwing a white powder into the eyes of their opposers, beating down The Briscoes, Caprice Coleman and Cedric Alexander as SCUM's numbers continually grew, only be joined moments later by another in the image of a self-proclaimed "Icon."
As Adam Cole charged the ring he would be halted by an attacking Matt Hardy. Hardy entered the ring and removed his shirt, revealing like Titus a "SCUM" t-shirt. Kevin Steen stood, looking weary against the ropes, unable to believe the events unfolding before him. The ROH World Champion would have it explained to him by Steve Corino, who returned with a microphone to proclaim he had done what he spoke of.
The event ended with an image of this group standing tall, center of the ring, a torn flag of Ring of Honor's logo draped across a fallen Jay Lethal's chest, fan favorites such as The Briscoes, The American Wolves and BJ Whitmer tied to the bottom ropes as Kevin Steen looked on in disbelief. Corino proclaimed his promise, that honor had died, and SCUM had grown.
Overview
I'm extremely satisfied with what I was presented, the card was promising going into the event but I never imagined every match would deliver what they did. We witnessed a new generation of wrestlers unfold before our very eyes, guys like Matt Taven, ACH, Bobby Fish and Kyle O'Reilly, Michael Elgin and others made a statement tonight that Ring of Honor under their guidance has potential.
The bigges shock match wise is most definitely the results of the ROH World TV Championship match and the ROH World Tag Team Championship match. Matt Taven showed a great deal of potential tonight, alongside Truth Martini who has apparently lost the plot it gives him a chance to develop and use the ROH TV Championship to gradually develop while bolstering his name.
I'm delighted for Bobby Fish and Kyle O'Reilly, two highly underrated stars of Ring of Honor, getting what they deserve – I just wish it hadn't of been at the expense of The Briscoes. Mark and Jay held the titles for a mere two months but during that time took on all comers. I imagine this will lead to a feud between reDRagon and American Wolves over the titles, something I'd happily watch.
And the finale, wow… I'm not surprised by Jimmy Rave's return, in fact I predicted it several weeks ago on Twitter as he just fits the mold SCUM would want. I didn't see Cliff Compton however, nor did I see Rhett Titus. Why Matt Hardy is affiliated with the group is beyond me considering the fans simply care less about him and simply want him gone already – Joe Koff was in the arena, surely he heard the chants.
I imagine this angle will last a while, and see SCUM attempt to tear Ring of Honor apart from the inside, with an obviously disinterested Kevin Steen turning on them and leading ROH's charge alongside The Wolves, The Briscoes, Jay Lethal, and possibly a couple returnee's such as Colt Cabana and possibly even Delirious who'd gain a huge reception.
This is another improvement on the past iPay-Per-View event. Glory By Honor XI began the recovery process from the Cornette era, Final Battle 2012 reaffirmed they were on the right direction and tonight has put Ring of Honor back in peoples minds. Now they have to deliver one final home run, to show that the Ring of Honor of old, or at least a version of it, is indeed back.
You can catch the replay by heading over to ROHWrestling.com and following the directions outlined under the iPPV tab.